Memorial Charter 1.5 hours $750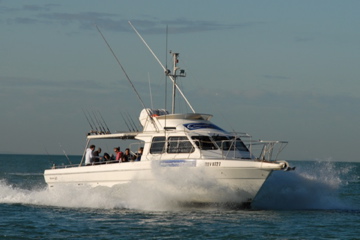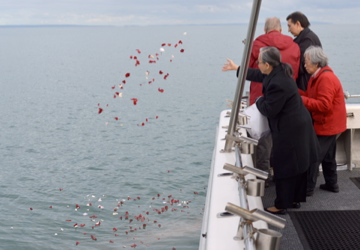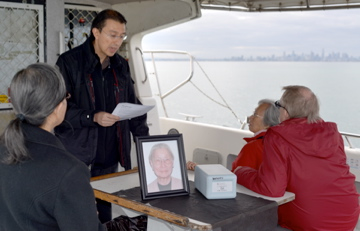 Duration: 90 Minutes (approx.)
Location: St Kilda, VICTORIA
Product code: PB0BUP
Private memorial Charter.
$750 for 1.5 hours locally in St Kilda
$900 for 2.5 hours longer trip ( destinations including Pt Cook, Black Rock & Sandringham)
Maximum 16 passengers
http://www.melbournefishingcharters.com.au/scattering-of-ashes
Package on board we include:
0. light refreshments including Coffee/tea and cake.
0.We have a toilet
0.We are fully licensed on board or BYO 4 cans of beer or pre-mixed spirits ( UDL's)
0.2 crew (Skipper- and host on board )
*** Take seasick pills the night before and in the morning before the trip, as prescribed by pharmacy, if required.***
Directions/Parking,
Trips leave, Row A St Kilda Marina Marine Parade, Elwood. VIC 3184, Elwood VIC 3182 ( from next to BP station)
Free parking. 15 minutes from Melbourne's CBD. Trips available every day, subject to numbers.
Map and parking - https://goo.gl/maps/7DRsERkm9VcmHzGu5





Arrive 15 minutes prior to departure.
_______________________________________________________________________________________________________________________________
Our ABN no. is 72 049 942 739.
-------------------------------------------------------------------------------------------------------------------------------------------------------------------------------------------------------------------------------------
Terms and Conditions
These terms apply to all trips, voucher purchases and hire agreements - In accepting your booking you agree to our terms and conditions.

All trips leave from St kilda Pier at the Upper landing walk to the end of the pier and turn right at the cafe. Walk a few meters over the bridge and you will see out boats. (Please do not walk to the end of the board walk). Arrive 15 minutes prior to departure.

We will send a SMS text AT 5:00pm the night before to confirm the trip is going ahead after the weather forecast has been issued.
***** ALCOHOL POLICY FULLY LICENSED PREMISES - BYO 4 cans only
NO ESKIES PERMITTED/ ABSOLUTELY NO DRUGS****
It is permissive to bring MAXIMUM 4 cans per person. It is always requested that any alcohol brought onto the boat be in cans. STRICTLY NO HARD SPIRIT POLICY APPLIES. The skipper has the right to refuse to allow alcohol to be brought on the vessel. If a group arrives for their charter clearly under the influence of alcohol and the skipper is of the opinion that the group is not in a suitable condition to take part in the charter, the trip will be cancelled and the full amount of charter will be forfeited. The sKipper reserves the right to refuse boarding to any person he or she believes is intoxicated prior to the commencement of the trip. During a trip, should the consumption of alcohol result in unruly behavior, the skipper reserves the right to terminate the trip without refund, The Skipper reserves the right to notify Police of the imminent return to the closest Port of Drunk & Disorderly customers.
Duty of Care / Safety Statement
All customers will be given a safety brief prior to departure including a life jacket drill. We have full public liability insurance. All customers are required to sign a passenger manifest prior to departure and sign a declaration that all pre-existing conditions and medication have been declared.
All Customers must declare any pre-existing medical condition or any medication prior to booking or departure. Some customers are deemed to be at increased risk and therefore may require special attention. We have the right to ask any customer to wear a life jacket through out our fishing trip, and the right to refuse a booking or refuse boarding if you are deemed to be high risk. Pregnant women, or blind people for example are high risk. Our vessel are not suitable for wheel chairs or physically handicapped people, as access at various tides is poor, and climbing a ladder may be required. Children under 7 years are not permitted aboard our vessels. All children between ages 7-12 are required to wear a life jacket.
WEATHER CONDITIONS -
All trips are subject to suitable weather conditions. Melbourne Fishing Charters will not cancel unless we are absolutely confident the current weather forecast issued by the BOM is accurate. only MELBOURNE FISHING CHARTERS AND ITS AGENT RESERVES THE RIGHT TO CANCEL A FISHING TRIP BECAUSE OF WEATHER. We will SMS text all customers the night before between 4 and 6pm to confirm the weather. On occasions trips will be placed on standby until 5am on the day and the client will be updated at approx 5.05am. For group charters we recommend having an alternative activity planned incase weather changes are outside our control. From time to time the weather can change quickly and a reschedule may be necessary at short notice. The skipper, after consultation with the client dock side, has the right to cancel if deemed unsafe for ship, crew and customers. WE don't cancel unless we are absolutely confident we have all information regarding eh weather. REMEMBER - IT IS OUR AIM TO MAINTAIN A SAFE AND COMFORTABLE ENVIRONMENT FOR OUR CUSTOMERS. IT IS NOT OUR INTENTION TO SPOIL YOUR DAY.
PRIVACY
All details obtained from clients i.e. telephone numbers, email address, postal address, facsimile number, credit card and bank account details, are only utilized for the express purpose of the operations of Melbourne Fishing Charters. These details are never sold, distributed or released to any other parties or bodies. In the instance of dishonored cheques or unauthorized credit cards these details will be forwarded to legal or recovery professionals.
PAYMENT for charter
All Payments are to be made prior to the vessel departing. The person making the booking is responsible for the payment of the entire amount. Bookings made must be paid for i.e. We prefer mastercard, visa add 1.5% surcharge. Amex cards incur a 3% surcharge.
TREATMENT OF STAFF
Our Staff have all been selected for their expertise in their field. As workers they are not to be insulted, sworn at, abused or defamed. The Skipper reserves the right to cancel any trip or return to any Port any individual (without refund) where staff are being harassed and or abused.
GENERAL BEHAVIOUR
It is a requirement that all Customers behave in a respectful manner whether that be prior to, during or after the charter, having full consideration for all other users of the Pier and it's immediate vicinity. Obscenities and unruly behavior will not be tolerated under any circumstances and may result in your booking being cancelled and payment forfeited.Any equipment lost due to negligence will be charged up to $165 per rod and reel unit and or cost's incurred in damage repair to boat
DRUGS
Drugs are not tolerated in any form. If a customer attempts to smoke or consume an illegal substance the skipper will immediately report this to the Marine Police and the trip will be immediately cancelled. No refund will be paid and the matter will be handed to the police.
RISK ASSESMENT AND DUTY OF CARE
All customers will be given a full safety and security brief prior to the vessel leaving port as part of our duty of care. Customer's will be asked about pre-existing medical conditions and declaration about any medication. These details are entered into the ships log. Customers are asked to complete a liability release and assumption of risk form prior to departure if a pre-existing condition is present. A non declaration of a pre-existing medical condition is considered negligent and Melbourne Fishing takes no responsibility for an incident arising.
CUSOMER CHARTER
We promise to do our best to make your day run as smoothly as possible from your initial reservation through to your day on the water. Our team promise to do their very best to make your day safe and comfortable given the varying conditions at sea.
Our Toilet facilities are private and clean. The toilets are marine style and good for liquid waste only (no. 1's). We recommend using a toilet before departure at public facilities in St Kilda for no.2's. Vessels are confined space. Smoking is allowed in designated area as directed by the crew.
CHILDREN ON BOARD
7 - 12 years and under, is considered a child. Children must be able to fit a child life jacket and it is our policy that a life jacket provided by us is to be worn throughout the charters. Children under 7 years are at additional risk in the event that the ship be abandoned. We do not allow children under 7 years.
SPECIAL NEEDS
Melbourne Fishing Charters has the right of refusal to any booking deemed to be at increased risk of safety with out prejudice. This includes any customer with a pre-existing condition or any medication that puts the charter and customers at additional risk.